---
Fully automated coagulation analyzer SF-8200 training in Iran.
Our technical engineers explained in detail the instrument operation specifications, software operation procedures, how to maintain during use, and reagent operation and other details. Won the high approval of our customers.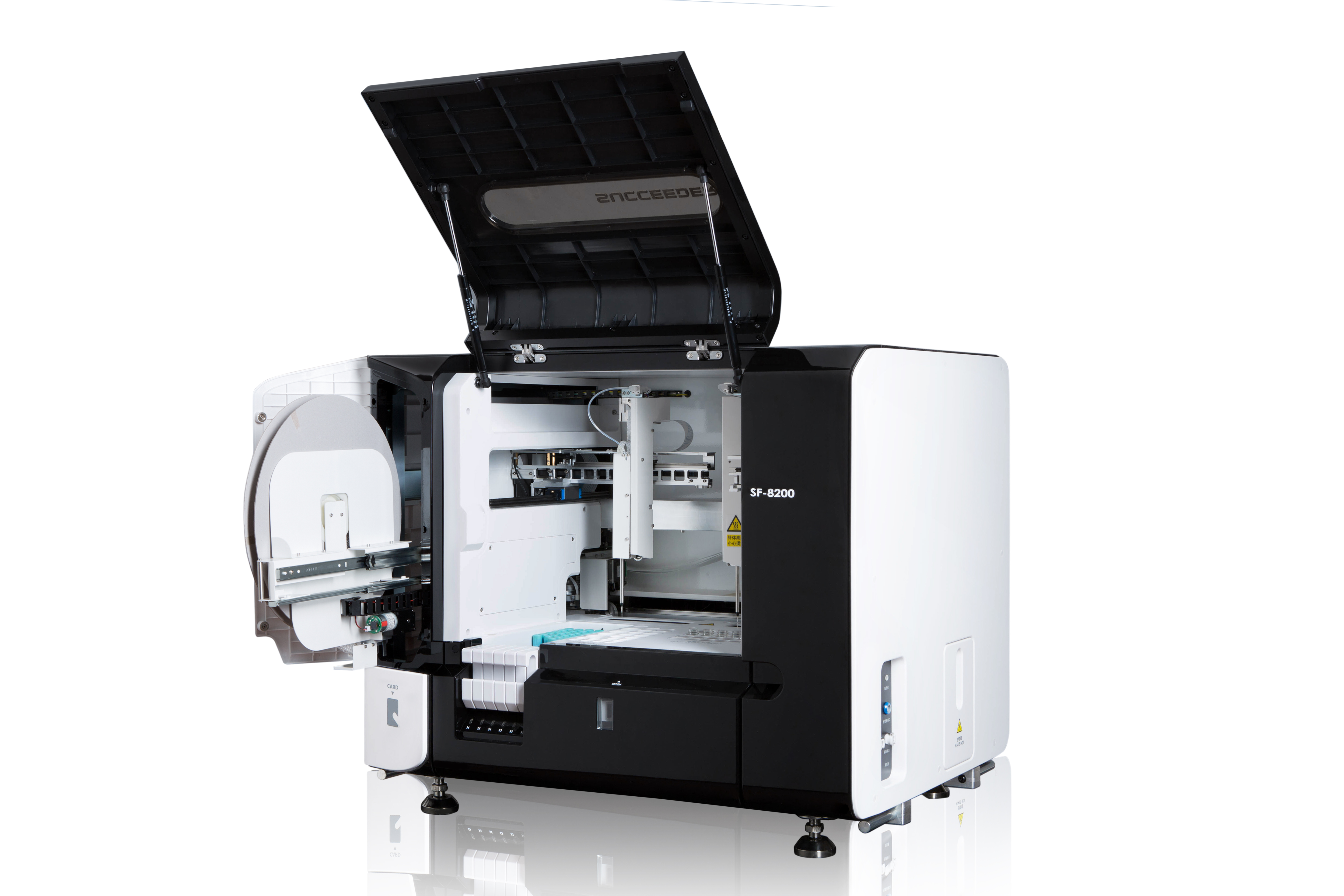 SF-8200 High-speed fully automated coagulation analyzer
Features:
Stable, high-speed, automatic, precise and traceable;
D-dimer reagent from Succeeder has a negative predictive rate of 99%.
Technical parameter:
1. Test principle: coagulation method (dual magnetic circuit magnetic bead method), chromogenic substrate method, immunoturbidimetric method, providing three optical detection wavelengths for selection
2. Detection speed: PT single item 420 tests/hour
3. Test items: PT, APTT, TT, FIB, various coagulation factors, HEP, LMWH, PC, PS, AT-Ⅲ, FDP, D-Dimer, etc.
4. Sample addition management: reagent needles and sample needles operate independently and are controlled by independent robotic arms, which can realize the functions of adding samples and reagents at the same time, and have the functions of liquid level detection, rapid heating, and automatic temperature compensation;
5. Reagent positions: ≥40, with 16 ℃ low temperature refrigeration and stirring functions, suitable for various specifications of reagents; reagent positions are designed with a 5° inclination angle to reduce reagent loss
6. Sample positions: ≥ 58, pull-out opening method, support any original test tube, can be used for emergency treatment, with built-in barcode scanning device, timely scan sample information during sample injection
7. Test cup: turntable type, can load 1000 cups at a time without interruption
8. Safety protection: fully enclosed operation, with the function of opening the cover to stop
9. Interface mode: RJ45, USB, RS232, RS485 four kinds of interfaces, the instrument control function can be realized through any interface
10. Temperature control: the ambient temperature of the whole machine is automatically monitored, and the system temperature is automatically corrected and compensated
11. Test function: free combination of any items, intelligent sorting of test items, automatic re-measurement of abnormal specimens, automatic re-dilution, automatic pre-dilution, automatic calibration curve and other functions
12. Data storage: The standard configuration is a workstation, Chinese operation interface, unlimited storage of test data, calibration curves and quality control results
13. Report form: English comprehensive report form, open for customization, providing a variety of layout report formats for users to choose
14. Data transmission: support HIS/LIS system, two-way communication
---