---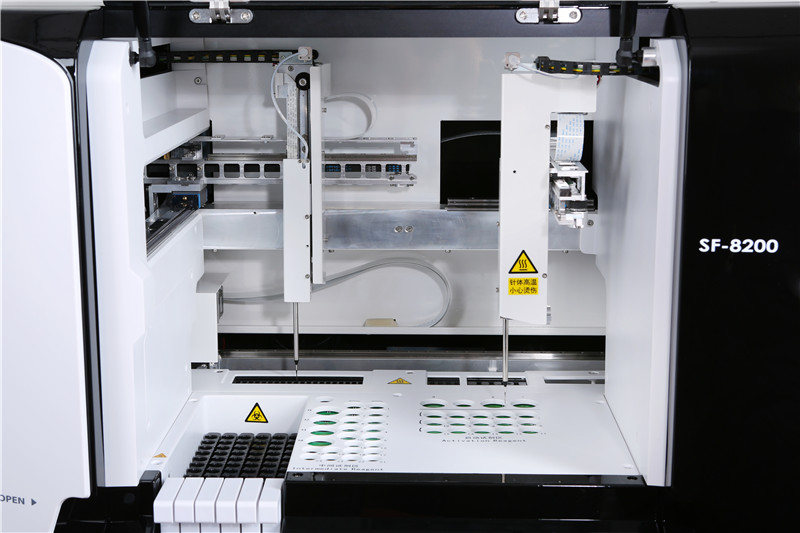 Fully automated coagulation analyzer SF-8200 adopts clotting and immunoturbidimetry, chromogenic method to test the clotting of plasma. The instrument shows that clotting measurement value is the clotting time (in seconds).
The principle of clotting test consists in measuring the variation in amplitude of the ball oscillation. A drop in amplitude corresponds to an increase in the viscosity of the medium. The instrument can figure out the clotting time by the motion of the ball.
SF-8200 automated coagulation analyzer is made of sampling probe movable unit, cleaning unit, cuvettes movable unit, heating and cooling unit, test unit, operation-displayed unit, RS232 interface (used for printer and transfer date to Computer).
Features:
1. Clotting(Mechanical viscosity based), Chromogenic, Turbidimetric
2. Suppot PT, APTT, TT, FIB, D-DIMER, FDP, AT-III, FACTOR II, V, VII, X, VIII, IX, XI, XII, PROTEIN C, PROTEIN S, vWF, LMWH, Lupus
3. reagent area: 42 holes
test positions: 8 independent test channels
60 sample positions
4. Up to 360T/H PT test with 1000 continuous cuvettes loading
5. Build-in barcode reader for sample and reagent, dual LIS/HIS supported
6. Automatic retest and re-dilute for abnormal sample
7. Reagent Barcode reader
8. sample volume range: 5 μl - 250 μl
9. PT or APTT on AT-Ⅲ carrier pollution rate ≤ 2%
10. Repeatability ≤3.0% for Normal Sample
11. L*W*H: 890*630*750MM Weight:100kg
12. Cap-Piercing: optional
---