---
Automatic Coagulation Analyzer is an automatic instrument for clotting test. SF-8050 can be used for clinical test and pre-operative screening.It adopts clotting and immunoturbidimetry, chromogenic method to test the clotting of plasma. The instrument shows that clotting measurement value is the clotting time (in seconds).
The principle of clotting test consists in measuring the variation in amplitude of the ball oscillation. A drop in amplitude corresponds to an increase in the viscosity of the medium. The instrument can figure out the clotting time by the motion of the ball.
The product is made of sampling probe movable unit, cleaning unit, cuvettes movable unit, heating and cooling unit, test unit, operation-displayed unit, RS232 interface (used for printer and transfer date to Computer).
Technology and experienced staffs and analyzers of high quality and strict quality management are the guarantee of manufacture of SF-8050 and good quality. We guarantee each instrument inspected and tested strictly. SF-8050 meets country standard, industry standard, enterprise standard and IEC standard.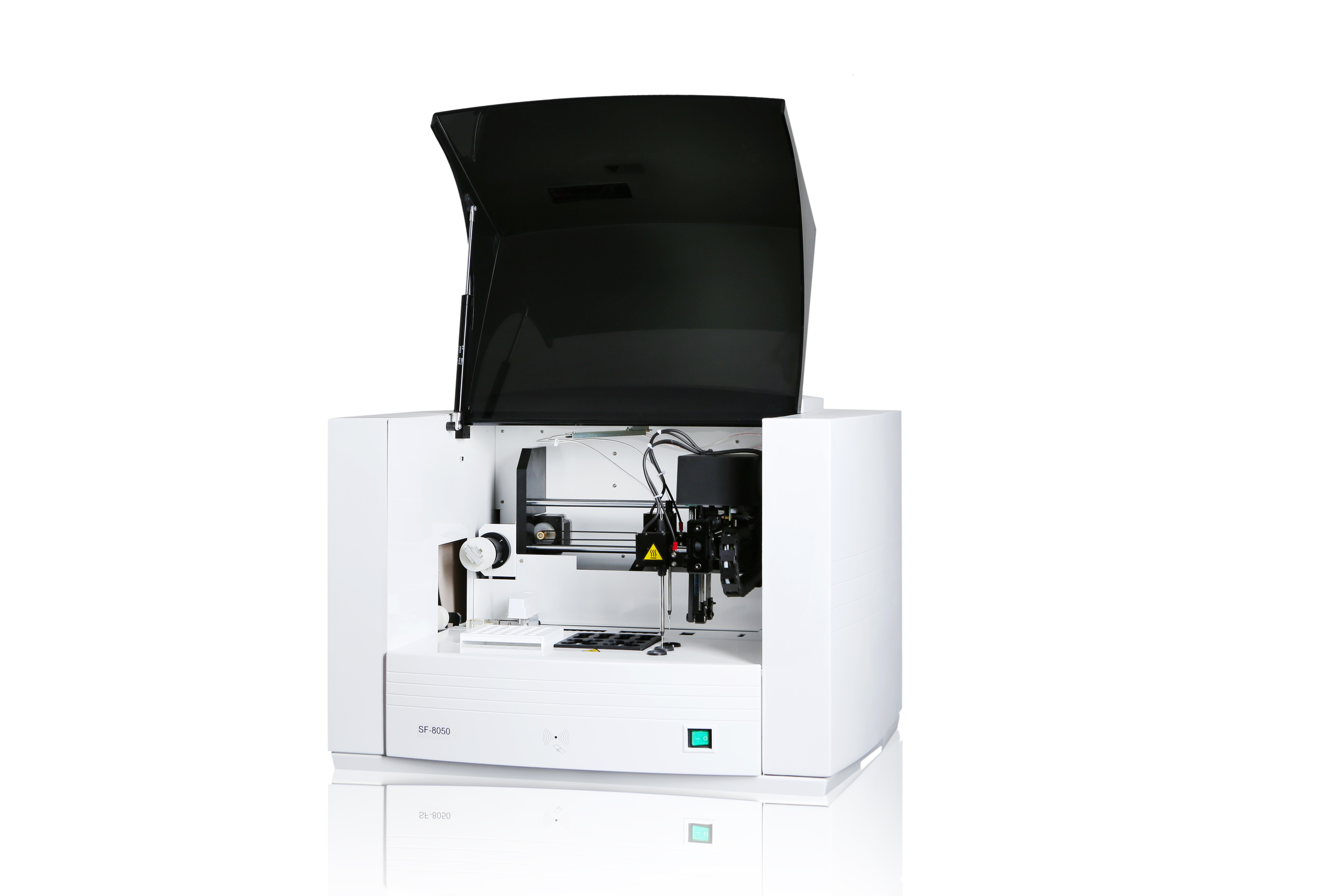 Features:
Mechanical clotting, immunoturbidimetry, chromogenicmethod
Speed: 200T/H
Testable items: PT, APTT, TT, FIB, D-DIMER, FDP, AT-III, FACTOR II, V, VII, X, VIII, IX, XI, XII, PROTEIN C, PROTEIN S, vWF, LMWH
16 reagent positions and 6 test positions
30 sample areas
10 incubation areas
Automatic storage function
Emergency test Adjustable
Repeatability: CV (Specimen) =< 3.0%
Error: ≤5% or ±2μL, take max.
Range of sample volume: 10ul-250ul
Dimension: (L x W x H, mm) 560 x 700 x 540
Weight: 45kg
---